REVIEWS
GUACAMELEE: SUPER TURBO CHAMPIONSHIP EDITION
Guacamelee: Gold Edition was one of the top games of last year, receiving praise from almost all of the players and press alike for both its amazing visuals and exciting gameplay. While Canadian developer Drinkbox Studios is preparing its new title called Severed due sometime in 2015, it thought it would be a good idea to bring its super-successful game to "next-generation" consoles, while enriching it with new content and some minor gameplay tweaks.
The result goes by the resounding name of Guacamelee: Super Turbo Championship Edition, a clear parody of the titles Capcom uses for its various versions of Street Fighter, which has only recently appeared on Steam, in addition to consoles (let's get used to it from now on). So what's new in this edition?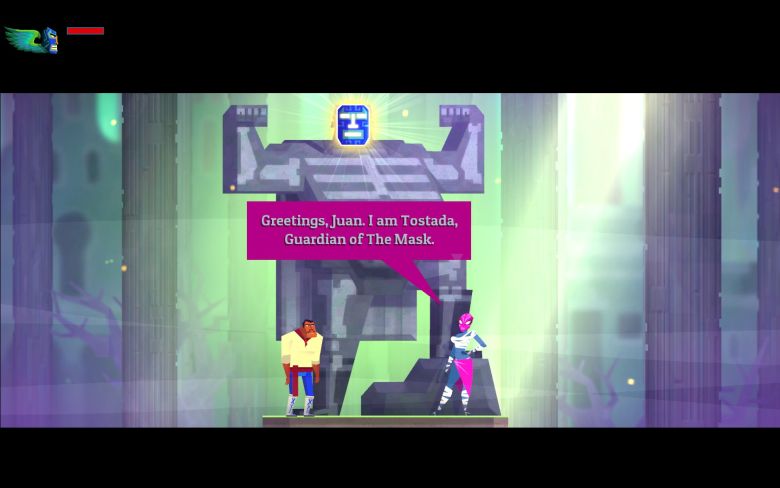 Juan is ready to become a Luchador again.
For starters, Guacamelee: STCE is pretty much the same game as the Gold Edition (review of which you can read here), as the core gameplay is kept intact. Of course, this is by no means a negative thing, as we are happy to see that the game hasn't aged a second. Personally, despite not having touched it since I finished it this time last year, once I started STCE I just didn't want to stop, even though I remembered much of the game by heart. And that's where you start to spot any differences compared to the Gold Edition.
The most minor is the fact that there is a wide range of costumes to dress up the heroes Juan and Tostada, which you can buy at the various checkpoints for the silver skulls you get every time you win a battle, while the more observant will notice a subtle improvement in the game's visual effects.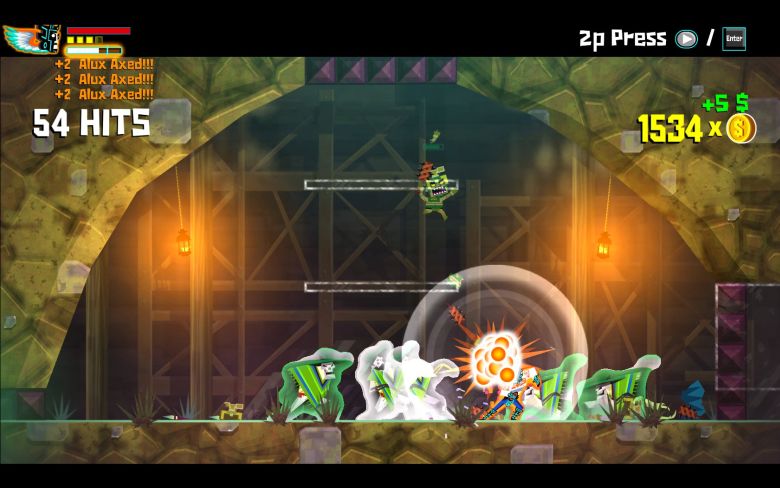 Using Intenso Mode, the hero becomes unstoppable.
The first big difference, in terms of gameplay at least, is the inclusion of an extra bar called Intenso. As you pummel your poor enemies in combos, the bar gradually fills up, and when it reaches a certain level, with the press of two buttons the hero Luchador Juan (and Tostada, of course, if you're playing co-op) enters "Turbo Mode". The consequence of this is that, in addition to a small health boost (salutary in some cases), the hero's hit power and speed are doubled, adding another important "strategic" weapon to the player's quiver against often overcrowded opponents and not-so-subtle bosses.
Beyond that, STCE features two new areas, the "Flower Channels" and the Volcano, equally impressive and well thought out that add a few more hours of gameplay, a couple of elite enemy types that change dimension at will (so in turn you'll have to do the same), and of course a new boss and right-hand man of the demonic Calaca, the Trio of Death. To the credit of Drinkbox Studios, both the extra areas and the boss don't seem to have been "shoehorned" into the existing story, instead they've been integrated extremely smoothly, making it even more complete and integrated.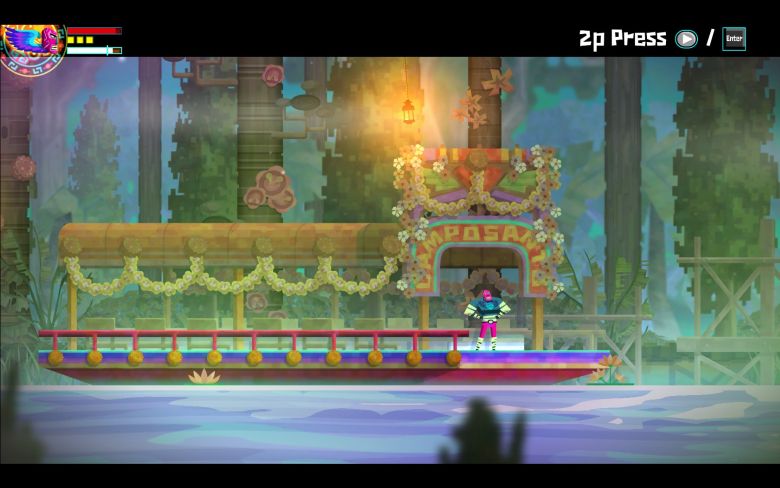 A romantic boat trip on the Canals of Flowers... or not?
So, these additions are all welcome, they don't alter its special character in any way, on the contrary, they make us characterize STCE as the ultimate version of an already excellent game. The only complaint we have is that there is still the lack of an online co-op feature, and it's a real shame that the folks at Drinkbox didn't address this, as it was a waste of a prime opportunity to fix the only serious shortcoming of perhaps the top "Metroidvania" game of the current generation. Maybe they would have had to change a lot of the code and there wasn't enough time to do that, who knows.
In summary, if you haven't played Guacamelee yet and plan on getting it, the STCE option is highly recommended. Now if you've already played/lived the Gold Edition, the differences aren't that much to make it worth the time and money to get it at full-price, however Drinkbox Studios is offering a hefty 66% discount until the end of September to existing owners of the previous version, which is enough to make you reconsider. In any case, Guacamelee is an experience you should (re)experience. Viva La Resurrección!
{youtube}KA_LayTuoRo{/youtube}
Pros
One of the best Metroidvania games, even more improved
Remarkable new content that extends the relatively short duration of the game somewhat
Cons
Lack of online co-op mode remains