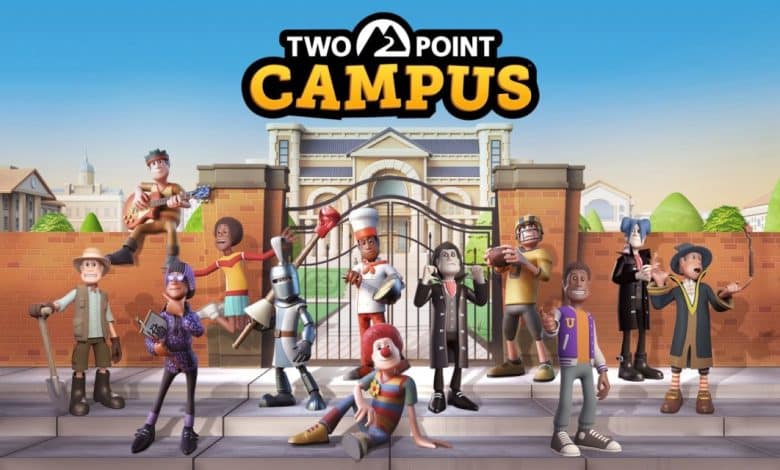 REVIEWS
TWO POINT CAMPUS
Back on the lecture benches!
I have a strange relationship with management sims. On the one hand, my involvement with video games is a manifestation of the need to escape from the daily routine, a decompression. On the other hand by definition management sims like Planet Zoo or Planet Coaster have realism as their main goal, so escapism is sort of going back to reality. Somewhere in between though, there is the happy medium of what I mentally classify as "humorous management sims", which is the equilibrium between OCD micromanagement and a heavy emphasis on humor. You see, my background with Monkey Island came and clicked perfectly on the spirit of Bullfrog's golden, in my opinion, games like Dungeon Keeper and Theme Hospital. Having spent several hours on both they are my favourite representatives of both the genre and Bullfrog itself. A few years later, Impressions Games' excellent Zeus: Master of Olympus came out, as did the unfairly forgotten The Movies (from Lionhead Studios), both excellent in my humble opinion. The genre's big comeback came in 2018 with the release of Two Point Hospital and its purest sim, Project Hospital. The former is considered the closest spiritual successor to Theme Hospital, which is no coincidence considering that the founders of Two Point Studios are Mark Webley and Gary Carr, the masterminds behind the sweet balloon-headed patient game. After a highly successful run, Two Point Hospital is handing over the reins to another sequel, reviewed here, Two Point Campus!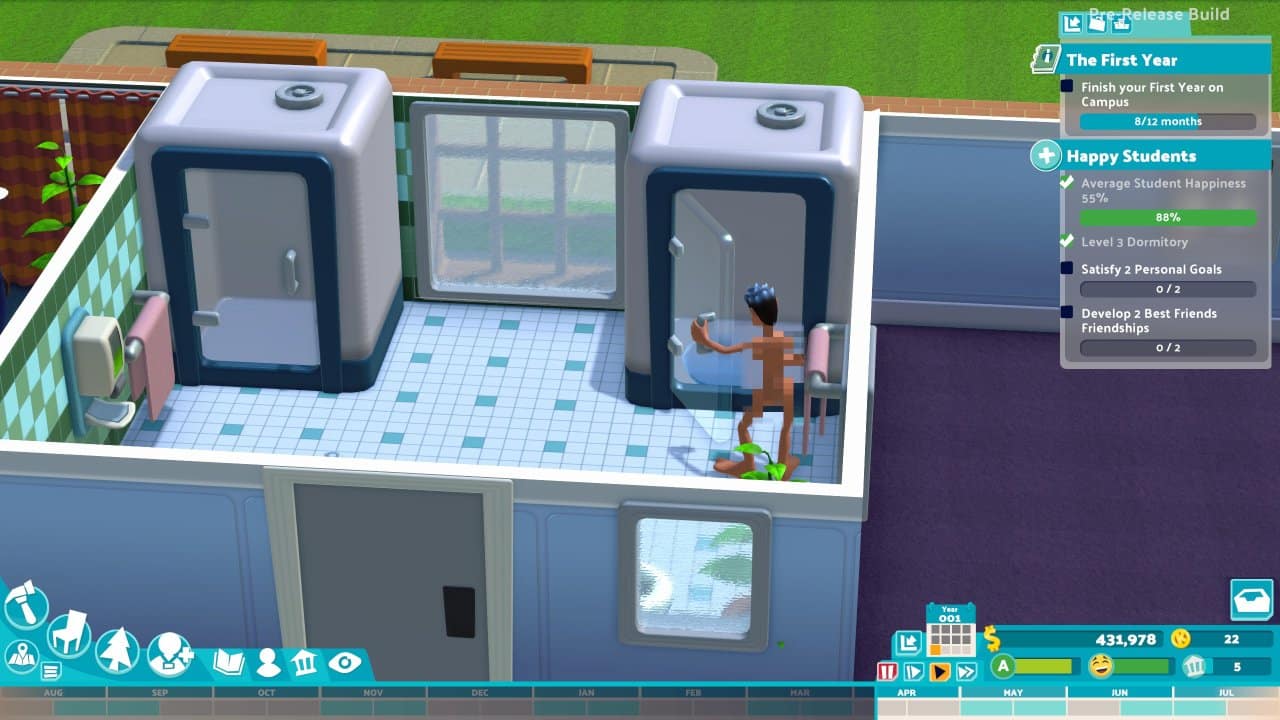 As an insightful reader will understand, the Two Point Campus (TPC) moves from the clinics to the lecture halls as we are called upon to manage a university in all its facets. A key element of TPC is that it keeps intact all the humor that distinguishes the series: the courses in the curriculum are not some trivial subjects like Natural Sciences, Social Sciences, etc. Instead, here we have the state-of-the-art of academic knowledge with subjects like Virtual Normality, Gastronomy, Internet History (special elective bear memes), Spy School, and... Archaeology . Already from the beginning of the game anyone who has played a humorous management sim will be in their element. The humorous emphasis on details makes engagement very comfortable: the PA announcements are one sardonic line after another (e.g. "Tuition is expensive, education is priceless").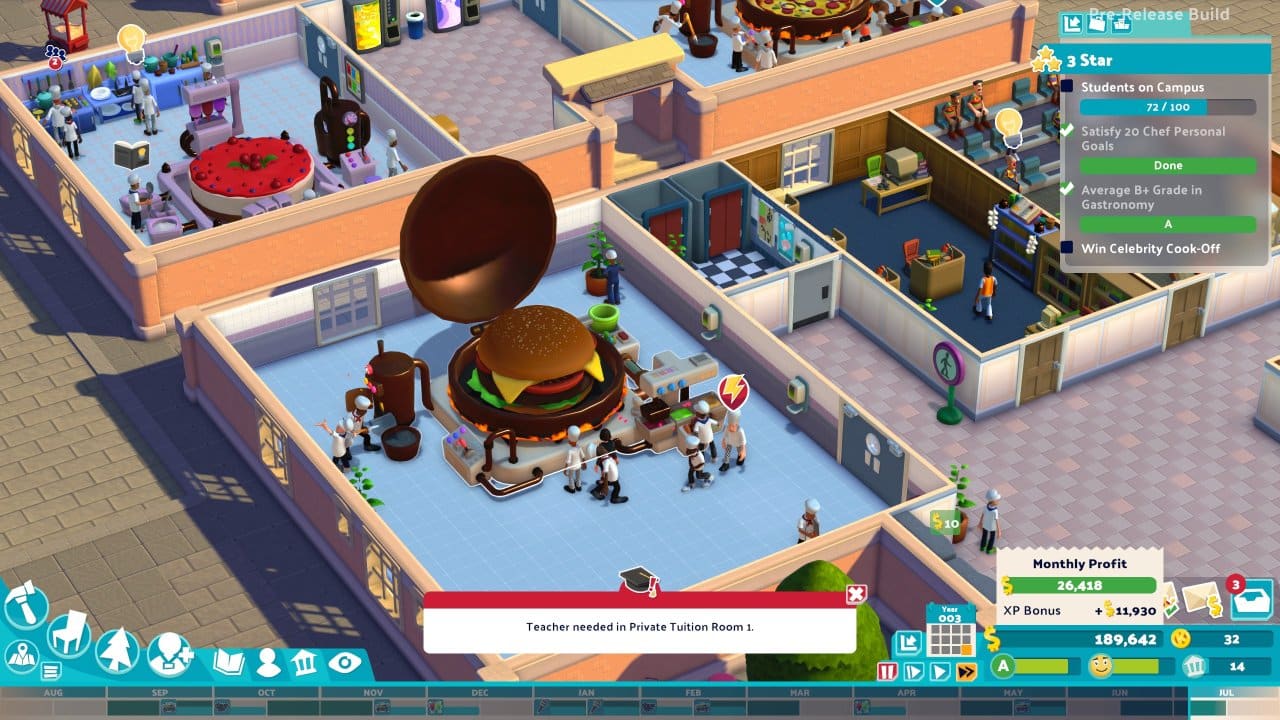 However, the key element under examination here is not the title's humour (which is aplenty) but how the title fullfils the role of a management sim. At this point the developers had two choices: either to start almost from scratch, essentially peddling the new wrapper (we've seen this happen more than a few times with other franchises), or to incorporate all the improvements Two Point Hospital has received over the last four years and go further. Fortunately, the latter is the case here. TPC has small but significant QoL mechanics that were introduced in its predecessor, making it a highly enjoyable game. To give you an example, unlike other representatives of the genre, I found it a very fresh idea that literally at any time we can change/extend a room/room or move them unchanged from one part of the building to another with no penalty other than the base cost. Bad choices (or choices that made sense at the beginning of a campus but not anymore) are not penalized, but the player has all the freedom to be as inventive and creative as they want to be. Now consider that this applies not only to the rooms in a building, but also to the very campus buildings we are trying to set up. The flexibility that TPC provides over design makes management easy and, most importantly, enjoyable.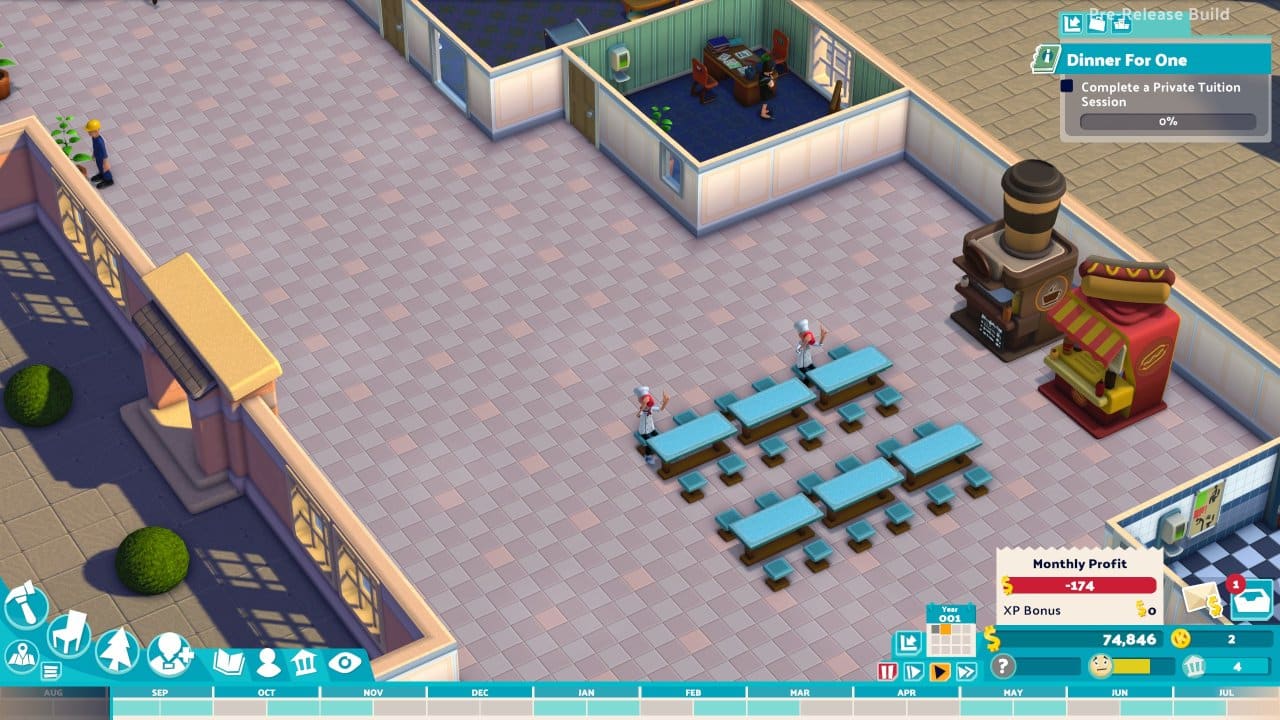 Don't let the above mislead you. Two Point Campus remains an extremely complex, deep, and challenging title. Managing a campus is a job that must balance objective educational needs, finances, and the subjective needs and "wants" of students. After all, unlike Two Point Hospital where patients come and go, students are here to stay and learn for at least the next three years of their lives. Inevitably this creates a bond with students (at least those who are favored), but their demands can be erratic enough to keep their "happiness" and thus efficiency levels high.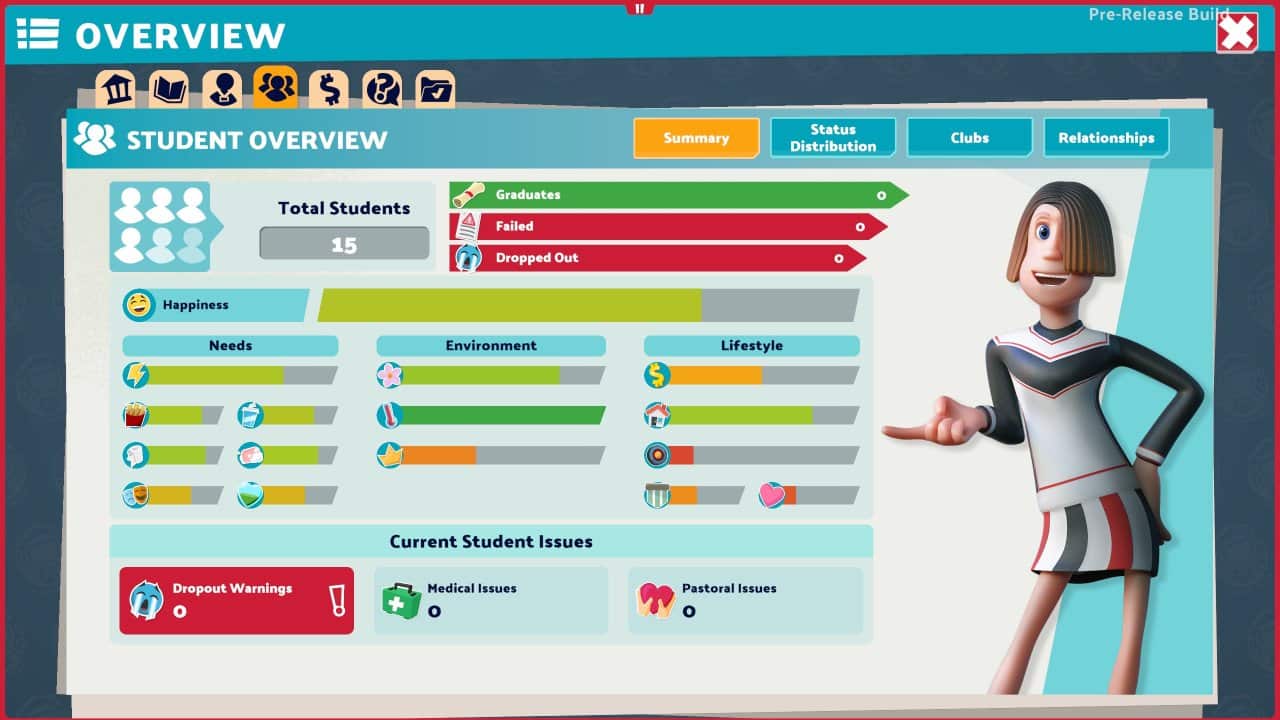 As in any organisation, we have to cover the necessary staff needs (teachers, management, and janitors). As expected, we need to pay attention to both their needs and training requirements to be in line with modern times. This always runs the risk of breaking the bank, since nothing is done for free. Fortunately, as we go along our sources of income multiply: from the rent we receive from the dorms, tuition fees, to sales to vending machines (and marketing promos of course-certainly). We can also direct, in a way, the characteristics of both our staff and students through training programmes and student societies, with the latter giving specific bonuses (e.g. the student runs faster from class to class).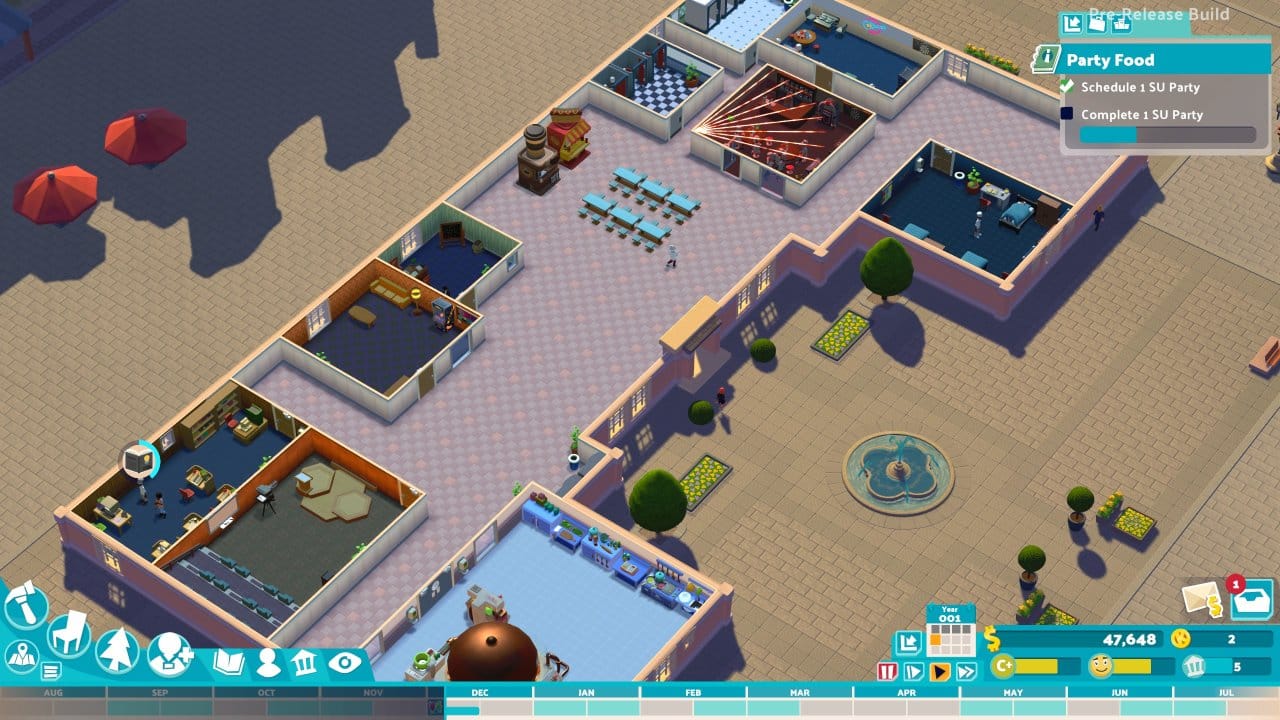 In the middle of it all is the social life of the people on campus. From big parties in the student union to sporting events (knight jousting anyone?), there is something for everyone. As life on campus progresses, so do the demands we have to meet, always maintaining a balance between fun and obligations. So while freshmen prefer to have a common room in the dorms so they can socialize, seniors prefer something more secluded so they can study and spend more... personal time with their amour. All contribute to their greater efficiency, which in turn brings grades, which in turn brings prestige for the university, which in turn brings... money. The organizational model is more based on the Anglo-Saxon system, where campus business is the status quo.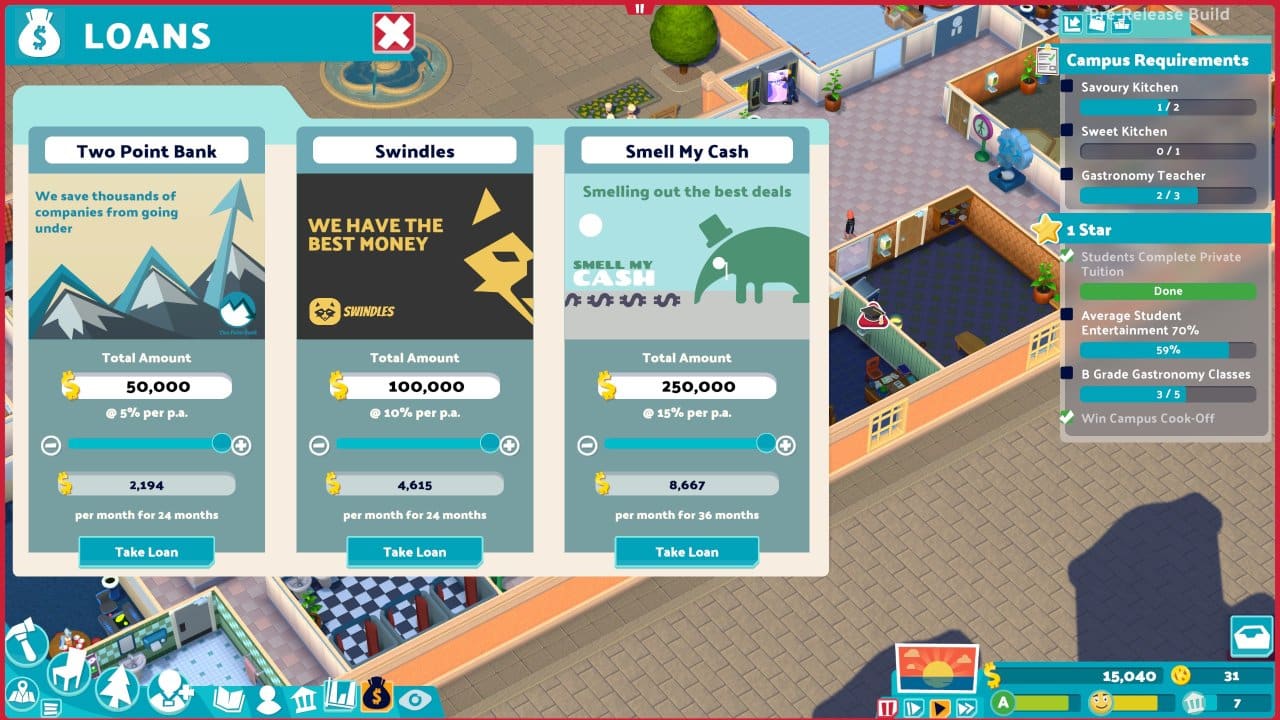 The entire UI is designed to allow us to monitor every detail of any measurable subsystem we are interested in. This is where TPC stands out, as the architectural design and layout of rooms, auditoriums, services, etc. must serve the organic process of both learning and the broader well-being of staff and students. At the end of each academic year, we have all the leeway to take drastic action (each academic year represents approximately 20 minutes of real time without pauses) of reconstruction and decoration. Rooms that were adequate last year are outdated and in need of upgrading for the next year if we want to attract more students and improve their grades. Some don't fit the layout and need to be moved, while others can be put on the new lot we just purchased. The options are countless and the only limitation is the player's creative imagination.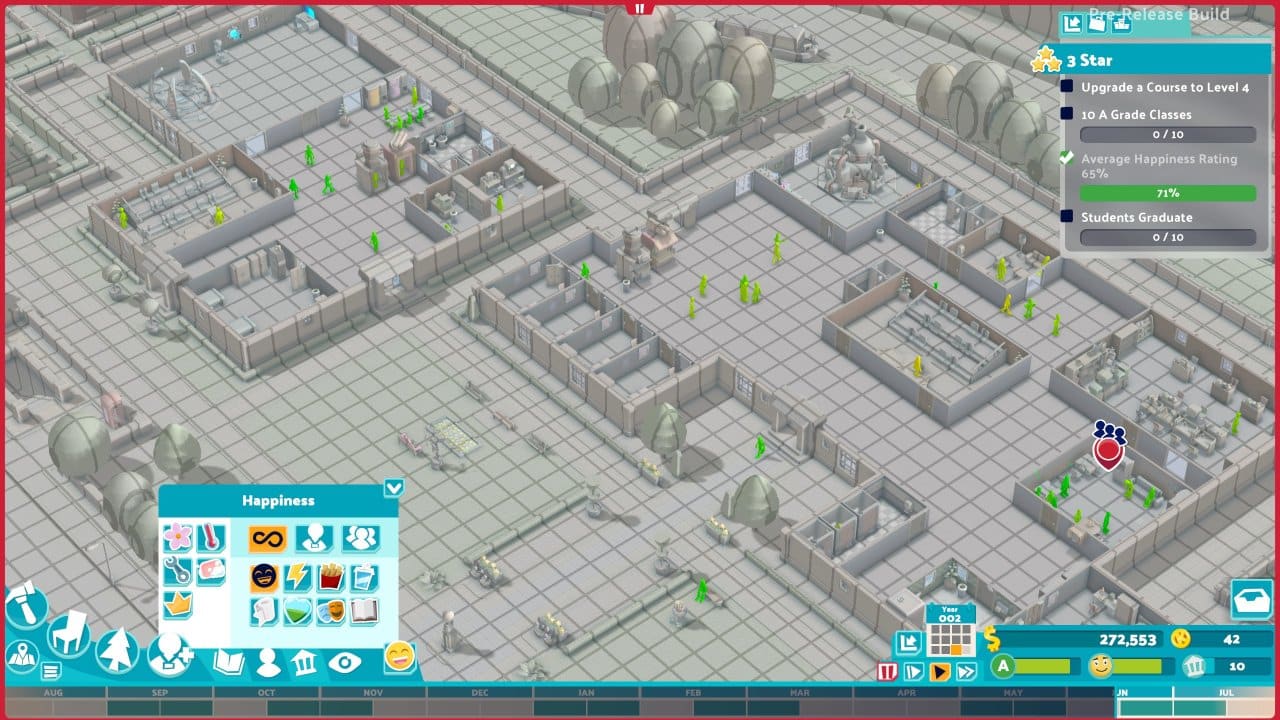 Two Point Campus comes as a complete package. Incorporating all the improvements and lessons (pun not intended) picked up from Two Point Hospital, it promises a few hours of engagement trying to bring out the best architect, dean, and administrator in you. With twelve separate levels, sandbox mode, and a plan for several DLC, we're dealing with one of the best management sims currently on the market!
Degree Grade
RATING - 98%
Two Point Campus delivers courses on management sim done right, balancing deep and complex management systems with humour. Engagement with it remains as fresh as with its predecessors.