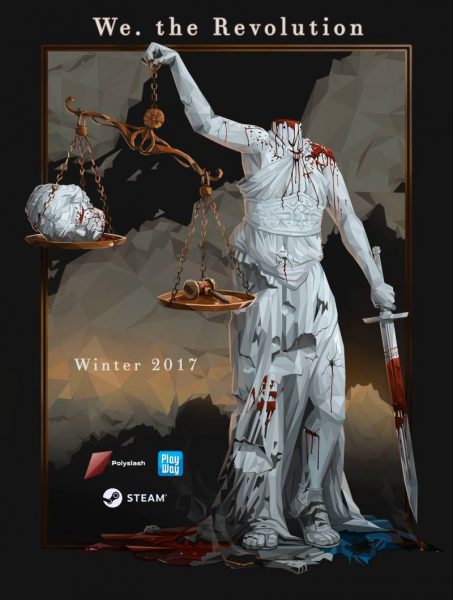 Το We. The Revolution, o επερχόμενος τίτλος της Πολωνικής Polyslash Games (μας είχαν παραδώσει το ενδιαφέρον Phantaruk παλαιότερα) μας βάζει στον ρόλο ενός Λαϊκού Δικαστή στους δρόμους του επαναστατημένου Παρισιού. Ο εθισμός μας τόσο στο αλκοόλ όσο και τον τζόγο σαφώς αναμένεται να περιπλέξει τα πράγματα, όπως και το γεγονός ότι θα κληθούμε ενδεχομένως να στραφούμε ενάντια στην ίδια την οικογένειά μας.
Αν και έχουν δοθεί λιγοστές πληροφορίες για το ποιόν του παιχνιδιού στην δημοσιότητα ως τώρα, αναμένεται να συνδυάζει στοιχεία διαδραστικής νουβέλας με καθαρή στρατηγική διαχείριση των πόρων μας, στα πρότυπα του σαγηνευτικά σκοτεινού, This Is The Police.
Η κυκλοφορία του αναμένεται στα τέλη του 2017 και η γεύση που μας αφήνουν κάποια από τα πρώτα concept εικαστικά του παιχνιδιού, κεντρίζει σαφώς το ενδιαφέρον μας.