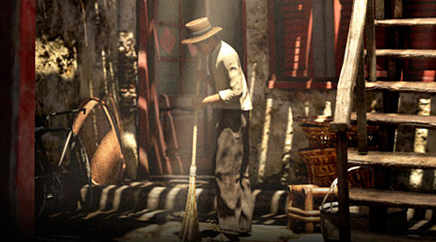 LATEST NEWS
Πρώτο gameplay footage από το Whore of the Orient!
UPDATE: Το site www.videogamer.com μόλις δημοσίευσε leaked alpha footage από τον τίτλο, γεγονός που με κάνει να πηδήξω ως το ταβάνι από τη χαρά μου, παρά το αβέβαιο στάτους της κυκλοφορίας. Λεπτομέρειες και βίδεο, εδώ :
http://videogamer.com/news/whore_of_the_orient_leaked_gameplay_footage_revealed.html
Αρχική Είδηση :Τα προγνωστικά για την Team Bondi (δημιουργούς του εκπληκτικού L.A. Noire) ήταν τα χειρότερα. Τον Απρίλιο προέβησαν σε μαζικές απολύσεις και η Warner Brothers αποσύρθηκε από το ρόλο του εκδότη του τίτλου. Όλα έδειχναν πως το μυστηριώδες νέο τους "παιδί" θα ακυρωνόταν εκεί και τότε.
Παραδόξως, μόλις γνωστοποιήθηκε πως η εταιρεία απέσπασε χρηματοδότηση ύψους 200.000$ απο το New South Wales Interactive Media Fund, τον κρατικό φορέα για τη στήριξη του κινηματογράφου και της video art στην Αυστραλία. Το ποσό μπορεί μεν να είναι συμβολικό, αλλά δείχνει πως τουλάχιστον το project είναι ακόμη ζωντανό.
Παράλληλα, ίδια χρηματοδότηση απέσπασε και η Intuitive Games Studios, που απαρτίζεται από πρώην εργαζομένους της Team Bondi και δουλεύει επάνω στο "Canonical Five", ένα "συναρπαστικό interactive detective μυστήριο".
Με λίγα λόγια και πολλή τύχη, θα έχουμε δυο μεγάλες εκπλήξεις από την Αυστραλία μέσα στα επόμενα χρόνια…