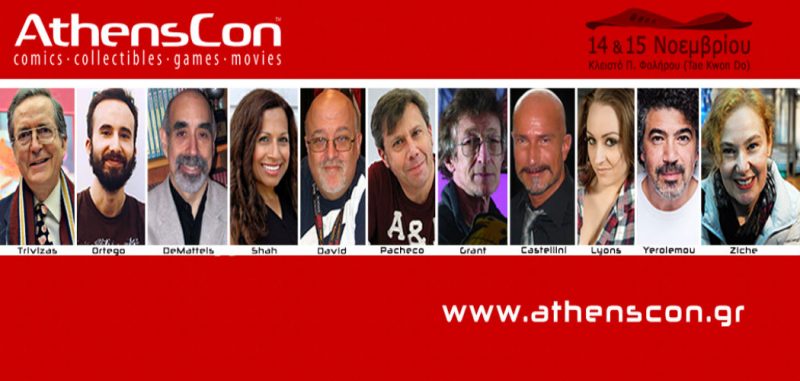 Στις 14 & 15 Νοεμβρίου διεξάγεται το AthensCon, το πραγματικά μεγαλύτερο και πιο geeky convention της Ελλάδας, το… One Con To Rule Them All! Το κλειστό Παλ. Φαλήρου (Tae Kwon Do) μετατρέπεται για ένα ολόκληρο διήμερο σε μια μαγική πύλη και ταξιδεύει τους επισκέπτες σε πλανήτες περιπέτειας, δράσης και μυστηρίου που μας μάγεψαν όταν ήμασταν παιδιά και μας προσφέρουν ανεμελιά ακόμα και σήμερα.
Το φεστιβάλ τιμούν με την παρουσία τους καταξιωμένοι καλλιτέχνες από το εξωτερικό (Alan Grant, Arti Shah, Carlos Pacheco, Claudio Castellini, Ευγένιος Τριβιζάς, Guillermo Ortego, John Marc DeMatteis, Μίλτος Γερολέμου, Peter Allen David, Silvia Ziche, Tabitha Lyons), 53 γνωστοί και ταλαντούχοι σκιτσογράφοι / εικονογράφοι από τη χώρα μας, αλλά και νέοι που ξεδιπλώνουν τώρα το ταλέντο τους. Καθ' όλη τη διάρκεια του διημέρου θα πραγματοποιούνται signings δίχως επιπλέον χρέωση, θα πωλούνται υπογεγραμμένα έργα από τους ίδιους τους δημιουργούς, ενώ οι επισκέπτες θα έχουν επιπλέον τη δυνατότητα να φωτογραφηθούν με τους αγαπημένους τους καλλιτέχνες.
Στη γεμάτη εκθέτες αρένα οι επισκέπτες θα ενημερωθούν για θέματα που τους ενδιαφέρουν, θα θαυμάσουν το Στρατηγό Lee από τους Dukes και τον K.Ι.Τ.Τ. από το Knight Rider, θα βρουν ξεχωριστά προϊόντα για να αγοράσουν, θα φτιάξουν origami, και θα βυθιστούν σε έναν κόσμο γεμάτο χρώματα και εικόνες.
Καθ' όλη τη διάρκεια του AthensCon, θα φιλοξενούνται (δωρεάν για το κοινό) ομιλίες και εργαστήρια ειδικού ενδιαφέροντος, στα οποία οι καταξιωμένοι στο χώρο τους εισηγητές θα προσφέρουν τις γνώσεις και την εμπειρία τους, καλύπτοντας ένα πραγματικά ευρύ φάσμα ενδιαφερόντων από τον κόσμο των κόμικς, του gaming, του κινηματογράφου, αλλά και του φανταστικού σε όλες του τις μορφές. Στο φεστιβάλ θα διεξαχθούν και τέσσερα σεμινάρια Water Dance με το Μίλτο Γερολέμου από το Game of Thrones!
Στα άνω διαζώματα του γηπέδου, περιμένουν τους επισκέπτες περισσότερες εκπλήξεις. Καταρχάς, θα έχουν την ευκαιρία να θαυμάσουν τέσσερις μοναδικές εκθέσεις: «V for Versatility» (εικαστική έκθεση με τη μάσκα του Guy Fawkes), «Once Upon a Horny Time» (dark room με ερωτική έκθεση), «Creature creations by Νίκος Δρέσιος» (έκθεση γλυπτών του χολυγουντιανού δημιουργού), και μια έκθεση-έκπληξη που υπόσχεται να αφήσει στα χείλη γεύση… παραμυθένιων φρούτων!
Στη συνέχεια βρίσκουμε την Board & Card Games area όπου θα διεξάγονται demos και flash τουρνουά για τους επισκέπτες. Όλες οι δραστηριότητες θα είναι δωρεάν για το κοινό το οποίο θα κερδίζει μοναδικά δώρα. Στο φεστιβάλ, μάλιστα, θα διεξαχθεί και το επίσημο τουρνουά του επιτραπέζιου παιχνιδιού με μινιατούρες Warmachine & Hordes. Στην Gaming area του AthensCon περιμένουν το κοινό events, τουρνουά και κουίζ με δώρα, μα κυρίως η δυνατότητα να απολαύσουν δωρεάν αγαπημένα και δημοφιλή games όλη μέρα κατά τη διάρκεια του φεστιβάλ. Και φυσικά, στο χώρο θα θαυμάσει το κοινό πλήθος από cosplayers, οι οποίοι θα διαγωνιστούν (προαιρετικά) στο Special Cosplay Photo Contest.
Σας περιμένουμε όλους στο πρώτο AthensCon, όπου μπορείτε να έρθετε εύκολα με αυτοκίνητο, τραμ, λεωφορείο, ή ακόμη και δωρεάν «UberX» οχήματα!