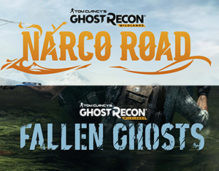 Η Ubisoft ανακοίνωσε το πλάνο για την υποστήριξη του Tom Clancy's Ghost Recon Wildlands μετά την κυκλοφορία του.
Σε όλους θα δοθεί δωρεάν PvP update που θα προσφέρει 4v4 ομαδικές μάχες, οι οποίες θα τεστάρουν τις ικανότητες των παικτών. Περισσότερες λεπτομέρειες για το PvP mode θα δοθούν εν καιρώ. Παράλληλα θα υπάρχουν seasonal events και community challenges.
Το Season pass θα περιλαμβάνει:
Narco Road Expansion: Οι παίκτες θα εισχωρούν σε συμμορία διακινητών ναρκωτικών με σκοπό να κερδίσουν την εμπιστοσύνη του αρχηγού και να την καταστρέψουν εκ των έσω, συναντώντας παράλληλα νέα bosses και νέα οχήματα.
Fallen Ghosts Expansion: Κατά τη διάρκεια μίας αποστολής εκκένωσης το ελικόπτερο των Ghosts καταρρίπτεται. Η ομάδα θα πρέπει να προσαρμοστεί καθώς έχει εντοπιστεί από μία ομάδα ελίτ μισθοφόρων. Οι παίκτες θα αντιμετωπίσουν ένα νέους πανίσχυρούς εχθρούς, θα μάθουν νέα skills, ενώ θα ξεκλειδώσουν και νέα όπλα.
The Unidad Conspiracy missions: Οι παίκτες θα προσπαθήσουν να αποσταθεροποιήσουν τη συμμαχία μεταξύ Santa Blanca και Unidad στην περιοχή Media Luna.
The Peruvian Connection pack: Οι παίκτες θα παίξουν την Peruvian Connection απόστολή και θα δεχτούν επτά gear patches.
Ακόμα θα υπάρχουν τρία θεματικά equipment packs και ένα αποκλειστικό όχημα. Τέλος θα υπάρχει μόνιμο +5% XP booster και κάποια μιας χρήσης μικρότερα boosts.
Το παρακάτω trailer είναι αρκετά επεξηγηματικό