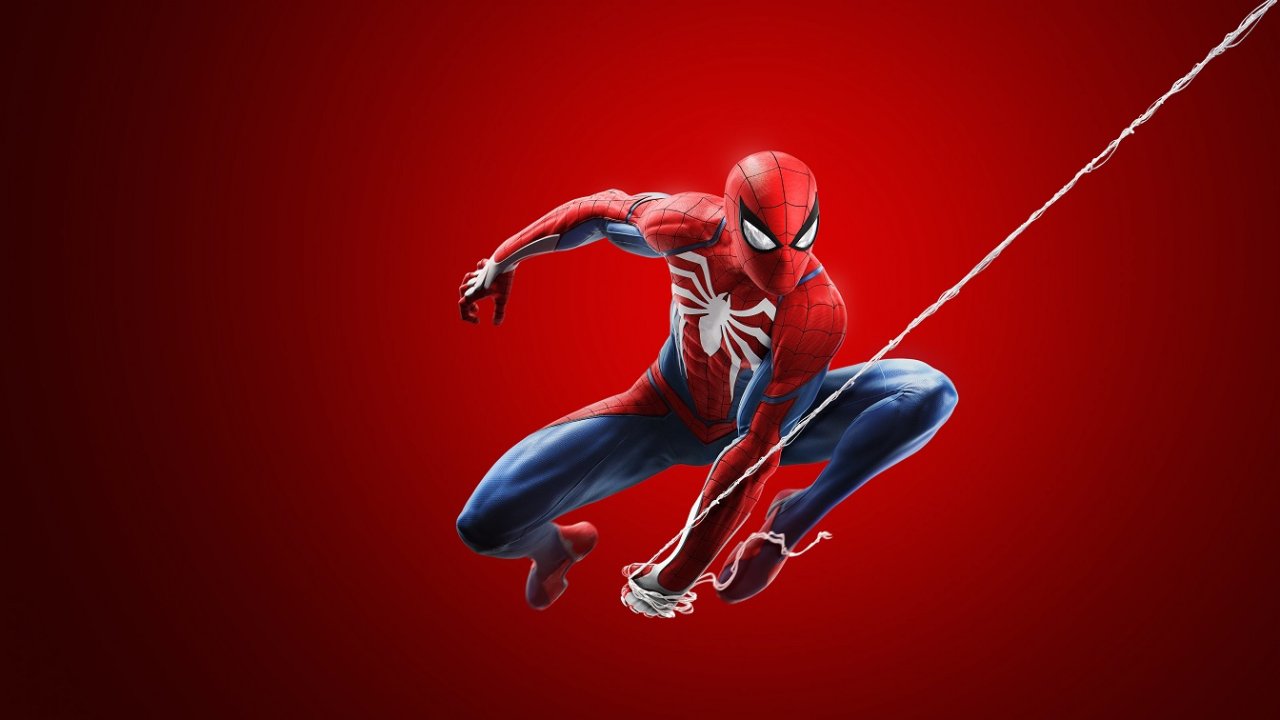 REVIEWS
MARVEL'S SPIDER-MAN REMASTERED
Exclusive no more
Sony's embrace of the PC platform continues apace. After the mediocre but ultimately patched to good condition port of Horizon: Zero Dawn, the decidedly more polished Days Gone and the near flawless God of War, it's time for Insomniac Games to debut a remastered version of its biggest hit. Porting duties were handled by Nixxes Software, a studio with extensive experience in PC ports that was recently acquired by Sony, so expectations are high for both the game itself and the PC version. Were they justified? Read on to find out!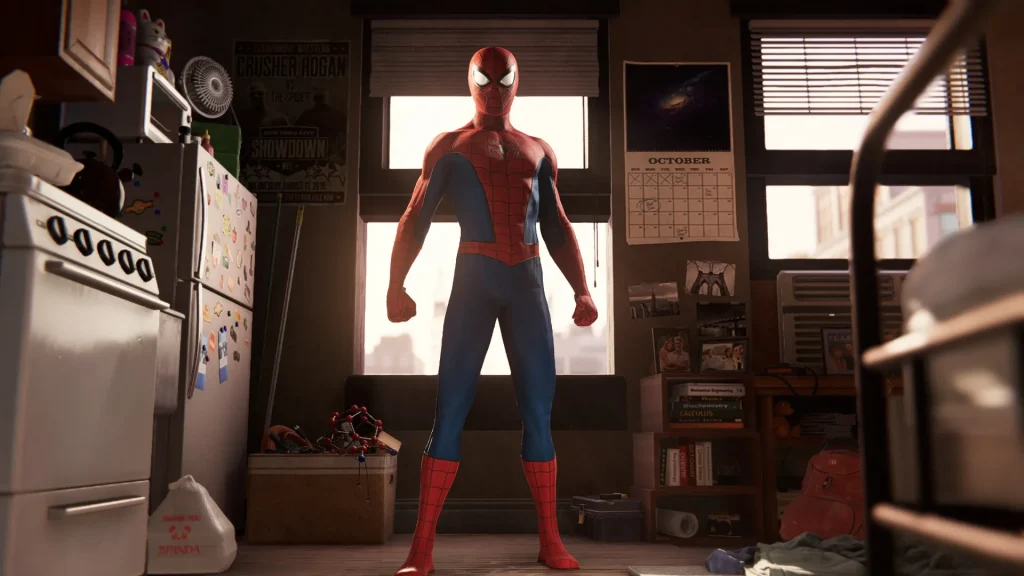 The beginning of the game finds our hero, as so often happens in his life, in a complicated situation due to his dual identity as Peter Parker and Spider-man. While his superhero activity is going fairly well due to the capture and incarceration of some of his famous villains, a new threat takes advantage of the void and begins to take on a leading role. At the same time, Pete's work under Doctor Octavius is having funding problems and his personal life isn't going the way he wants since Pete and MJ are temporarily (?) separated. So, as is all too often the case in movies and comics, Spider-man is called upon to keep the citizens of New York safe even if it impacts his life as Peter. Because, as we know well, with great power comes great responsibility.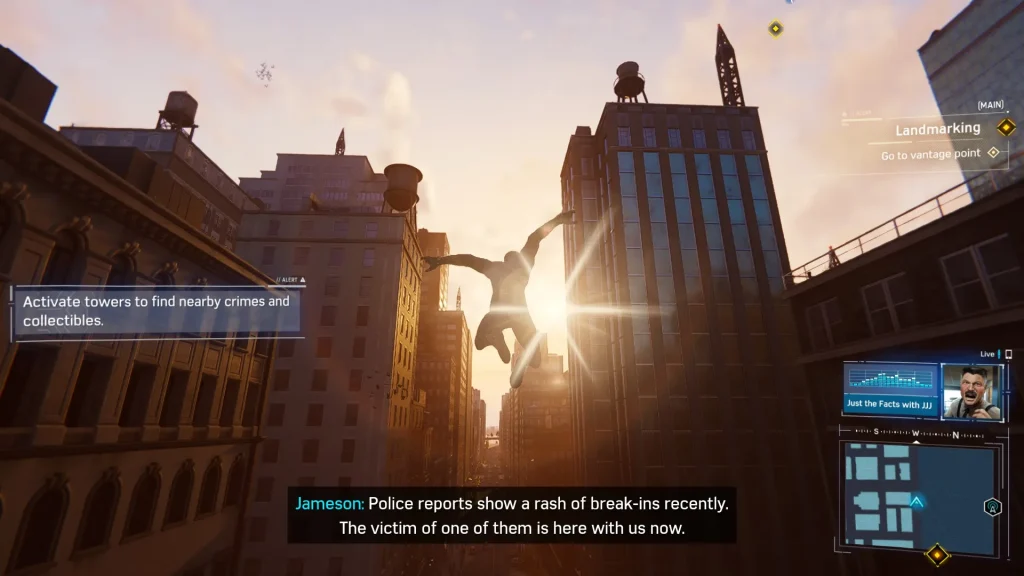 Marvel's Spider-man Remastered is a pure single-player title that belongs to the broader genre of open-world action games. The obvious and direct comparison is of course to Rocksteady's Batman Arkham series, and it's true that Insomniac's game borrows a lot of elements from our beloved Dark Knight. The first and most important of these is the combat system, which is again based on the "dance" between attack and dodge/deflect at the right time. Spidey moves with speed and grace and can easily beat up crowded groups of bad guys using his fists, his various gadgets and his web to reduce the distance from his attackers and trap them. When an enemy attempts an attack, spidey sense is activated (with a relevant indicator appearing above the character's head, again like the Arkham games) and, if you time it right, you can dodge the attack and any damage and keep on beating the crap out of them.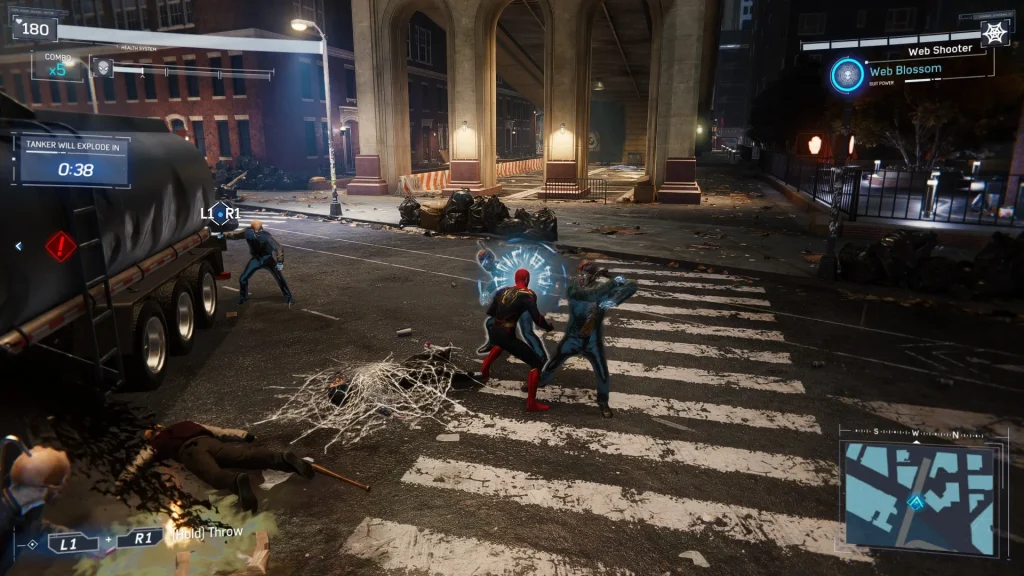 In some cases, usually optional but sometimes mandatory, direct assault is not appropriate and Spidey will have to take out his enemies with stealth and silent takedowns. These sequences are very reminiscent of (you guessed it) the Arkham games as our hero takes advantage of shadows and overhead locations to clear entire areas silently. The mask's visor detects and highlights bad guys with the press of a button so the player is able to lay out their plan in detail and select targets that are isolated. At the same time the web can serve as a distraction to "break" a group and trap its members one by one.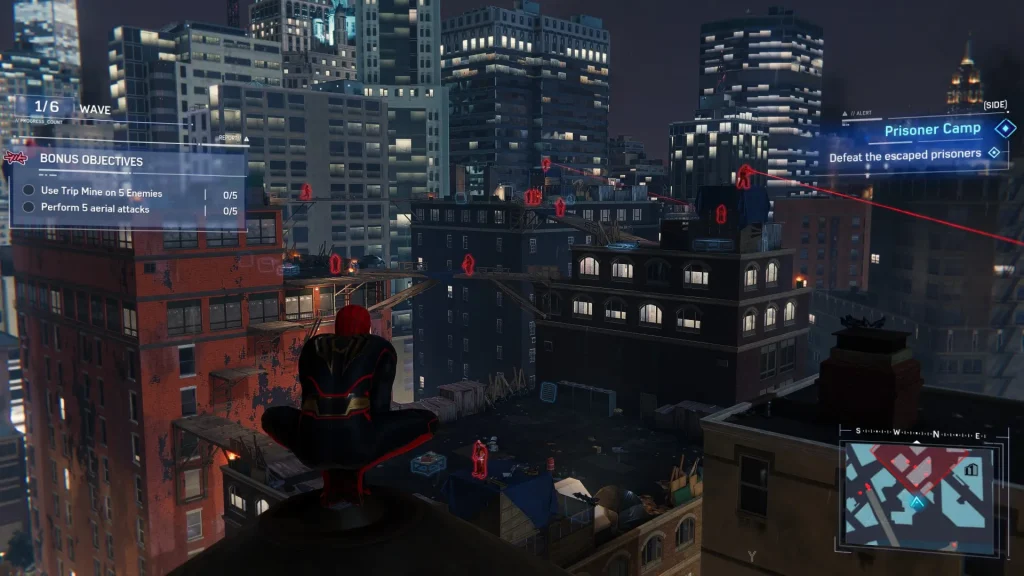 The missions available in Marvel's Spider-man Remastered are divided into three general categories: campaign missions, side missions and crimes. Campaign missions are of course the scripted missions that advance the plot and are generally the most thoughtful and interesting of the existing content. Side missions focus on parallel short stories with some continuity, while crimes are the (familiar from many other open-world games) randomly generated missions that involve various small or large crimes that a friendly neighborhood Spider-man has to fight: thefts, burglaries, drug deals, car chases of criminals, etc. Apart from the aforementioned missions, various other activities and challenges are gradually unlocked during the campaign: clearing enemy strongholds, time trials, neutralizing bombs, collecting collectibles and so on. It's not mandatory to tackle all of these until you complete them, but the campaign subtly nudges you towards the side content at regular intervals to unlock the next campaign mission.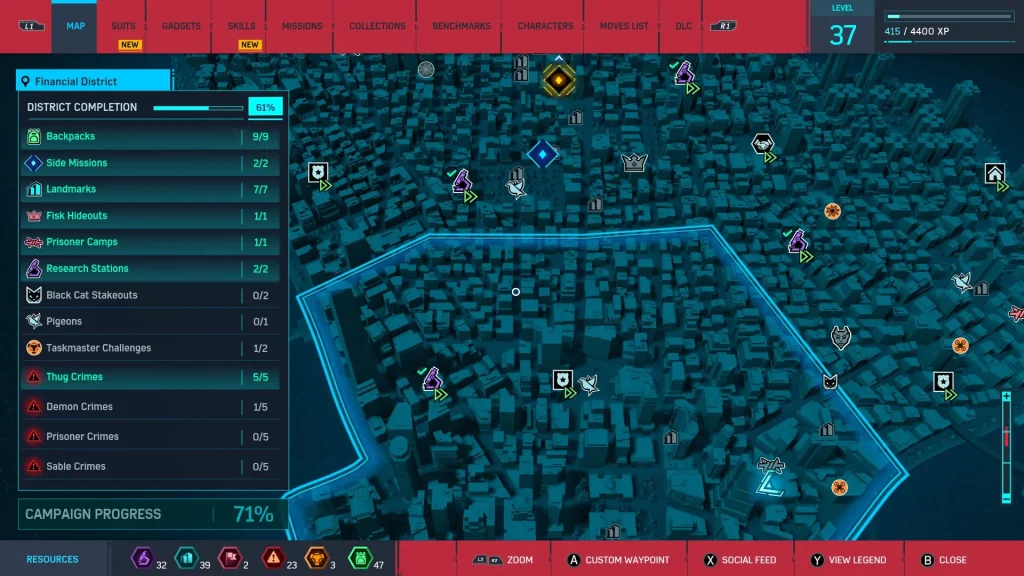 And now we come to the crucial question: Is the available content of high quality? Is the content interesting? Is it comparable or even better than the Arkham games? The campaign is indeed very good and I personally consider it better than the Rocksteady games. It's exciting, it has interesting characters, quality missions and plenty of spectacle. Most importantly, it's completely faithful to the style that a story of our favorite character should have, with the right doses of adventure, humor and drama that have characterized Spider-man for decades and made him so popular around the world.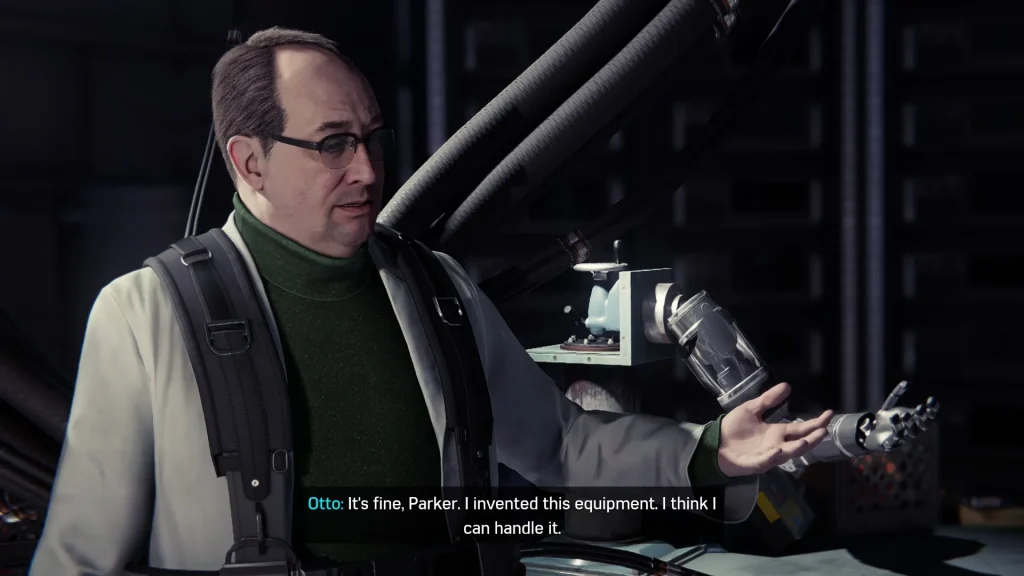 The side content I wouldn't say that it manages to stand on the same level. I realize that in an open-world game it is very difficult to have all the content hand-made and scripted, however I think that in this aspect the Arkham games did somewhat of a better job. Thankfully Insomniac managed to succeed perfectly in creating a pleasant and fun web swinging system so moving from mission to mission doesn't get tedious. On the contrary I would say, there were several times when I was web swinging in Manhattan just to see the sights and admire the wonderful work that has been done in the visualization of New York. My suggestion for the game's side content is to engage with it in moderation, limiting yourself to the activities you need to complete to unlock the next campaign mission or the ones that give you the necessary tokens to unlock the suit or upgrade you want. Otherwise, there is a risk of getting "burnt out" by repetition and losing interest.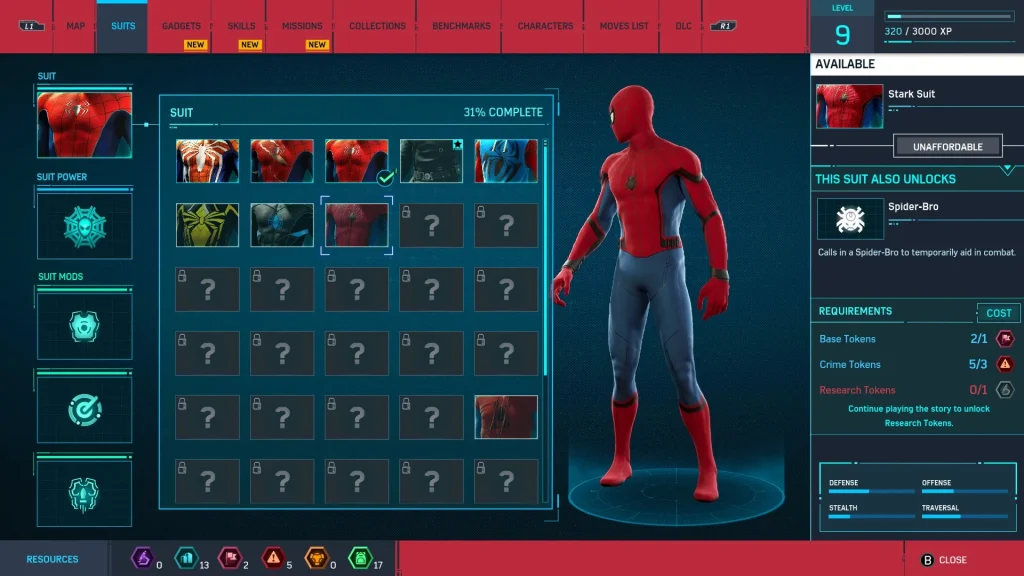 Moving on to the technical aspects of the PC version, in general we can talk about a well thought out but not perfect version. The graphics settings menu is complete, both DLSS and FSR 2.0 (and Insomniac's own upscaling) are supported, I didn't have any crashes throughout the gameplay and the only bug I noticed was one time when the character got stuck in the environment and I had to load a previous checkpoint. Performance on the test system (laptop with Ryzen 5800h and RTX 3060 with 6GB VRAM) and at 1080p resolution was almost flawless, with the framerate 99% stuck at 60 fps at detail level High without ray tracing. With ray tracing enabled there were several instances where the framerate dropped to 40 fps and stuttering occurred, probably an indication of lack of sufficient VRAM. Consequently I would recommend using ray tracing if you have 8GB VRAM and above. However, it should be noted here that the Digital Foundry site reports that there are issues with erratic frametime on systems with GTX 1060/RX 580 level graphics cards so if you have a similar system it would be best to wait a few days for the patch.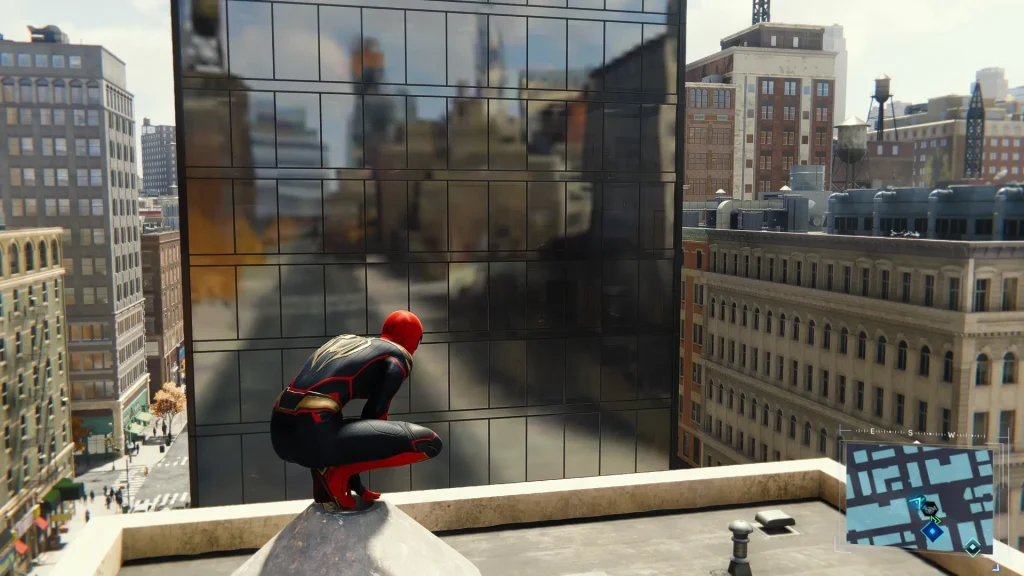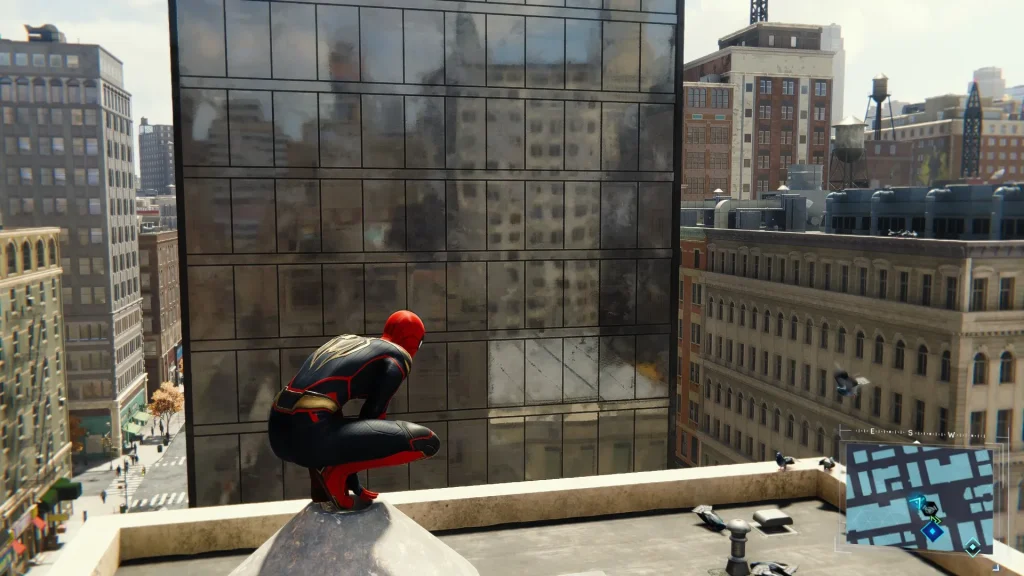 So evaluating Marvel's Spider-man Remastered as a whole, it's clear that there are a lot of positives. Quality (though not original) combat system, excellent web swinging and traversal mechanics, great recreation of Manhattan, satisfying and entertaining campaign, lots of fantastic spidey suits to unlock, quite a thoughtful PC port. There's no doubt that this is the best Spider-man game we've ever seen and I'm sure fans of the hero (which includes me) will have a great time. The only thing that prevents me from declaring it as the top superhero game is the issue of side content which... is a bit ubisoftey (no offense Ubi). I feel that in this part the Arkham games regain the lead because the side content was more interesting, it gave the feeling of regular side quests instead of randomly generated missions. The good thing is that the game doesn't overdo it with the density of these missions, there are a lot of different types but the map is tidy and the total amount is reasonable. I just wish more of these missions had a more developed plot and a bit more variety.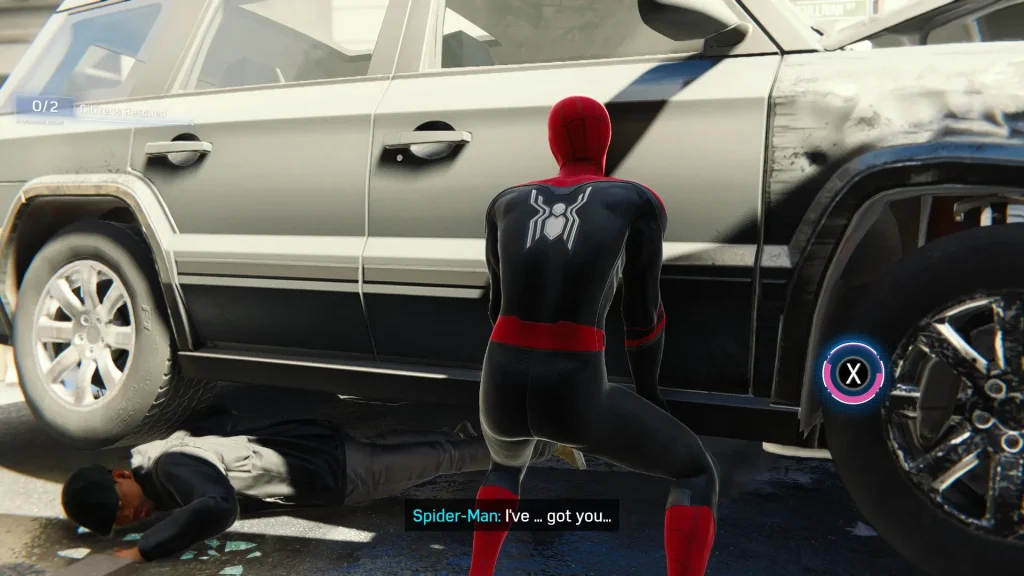 There is no doubt that Sony's initiative to port its games to PC has been a complete success to date. With the exception of the first release of Horizon which took some time to get to a good point, the other titles have all been quality PC ports and very interesting games. The exact same goes for Marvel's Spider-man Remastered, a great purchase that will provide dozens of hours of fun gameplay for superhero fans and for those just looking for a quality open world action game. Insomniac laid a very solid foundation with this game so that the sequels can make history. We can't wait!
Thanks to Sony Hellas for providing the review code.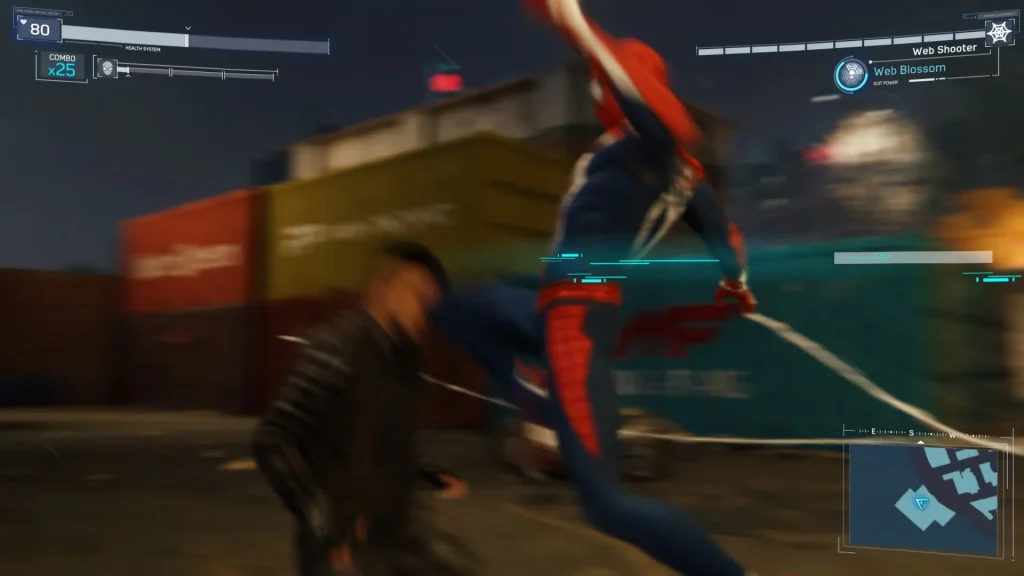 RANKING - 85%
An essential purchase for spidey fans and open world enthusiasts, with only the mediocre side content depriving it of the title of the ultimate superhero game.