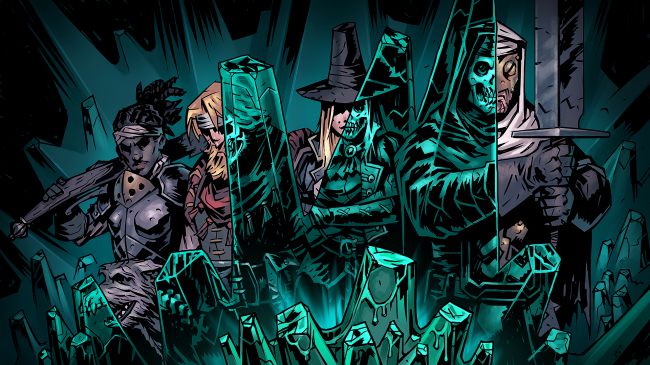 LATEST NEWS
Ημερομηνία κυκλοφορίας για το Color of Madness DLC του αριστουργηματικού Darkest Dungeon
Το καλοκαίρι αναμένεται παγωμένο, σαν κομήτης από αφιλόξενο γαλαξμουργκλούμπλουμπλου...
Στις 19 Ιουνίου θα κυκλοφορήσει το "Color of Madness" DLC για την ύστατη δοκιμασία ανδροπρέπειας που ακούει στο όνομα Darkest Dungeon.
Εισάγει στην περιπέτεια τη νέα περιοχή του Αγροτόσπιτου (Farmstead) και τον αλλόκοσμο Μυλωνά, με τους Χλωμούς Φρικτούς Παραγιούς του ως φράξια αντιπάλων. Το ειδύλλιο του τίτλου με την μυθολογία του H.P. Lovecraft επισημοποιείται, καθώς ένας παράξενος Κομήτης πέφτει από τον ουρανό και προσκρούει στον μύλο του Υποστατικού, φέρνοντας κάποιες…δραστικές αλλαγές στον χαρακτήρα των συνήθως φιλήσυχων κολίγων μας.
Τέσσερα νέα κτίρια-districts μας περιμένουν, όπως και ένας νέος έμπορος, ο Χρυσοχόος (Jeweler), ο οποίος θα πληρώνεται μονάχα με τα πολύτιμα Comet Shards που θα αποκτάμε κατά τις εξορμήσεις μας στον καταραμένο μύλο.
Αν και η Red Hook δεν έχει δώσει περισσότερες πληροφορίες για τα επιμέρους στοιχεία του τίτλου, είναι ιδιαίτερα πιθανό να μην δούμε κάποιο "πλήρες" expansion στα χνάρια του αιματοβαμμένου The Crimson Court DLC, αλλά μια μικρότερη επέκταση. Η τιμή των 4.99€ καθώς και η "Endless Quest" λογική που εισάγεται και ισχύει για την περιοχή του Μύλου και των bosses του, επιβεβαίωνουν την θεωρία μας.
Όπως και να 'χει, το καλοκαίρι αναμένεται θερμό παγωμένο και γεμάτο Τρόμο Πέρα Από Τα Αδιάφορα Αστέρια. Είναι δεδομένο πως θα καταστραφούμε και πάλι αγρίως.